Local searches remain a significant source for people looking for products and services in their area. Inquiries with local intent, particularly those with "near me" or "where to buy," doubled in 2019, according to tech giant Google. Additionally, over half of these searches led to an actual office visit–72% for those within five miles of a user's location.
As a result of the changes to the SEC's marketing rules, Google launched Google Screened for Advisors, enabling verified service providers to appear on top of local searches. Discover how it works and why you might be interested in becoming "Google Screened" as this article discusses the benefits and costs of this new service.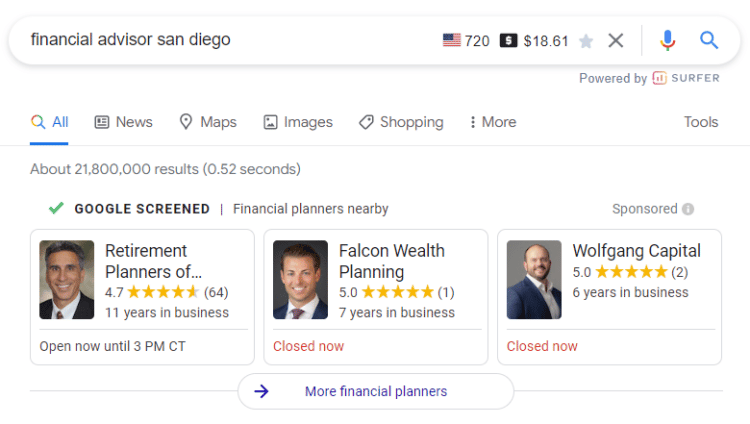 What is Google Screened and how does it work?
Google Screened is a new service offered by the tech giant for professionals and firms offering their services to the public. These include lawyers, real estate agents, and financial advisors.
To earn a badge, which appears as a green check symbol beside a listing, advisors must agree to go through comprehensive checks performed by Local Services Ads (LSA), their partners, and other agencies.
A listing with the badge means information on the local listing has been verified, marking the company and its staff more trustworthy. As such, it's a requirement for running LSA so you can appear as one of the top searches for local financial advisors.
A Google Screened financial advisor's listing will display their photo, review rating, and count. Most importantly, the ad also has a click-to-call button that links users directly to a firm or an individual service provider.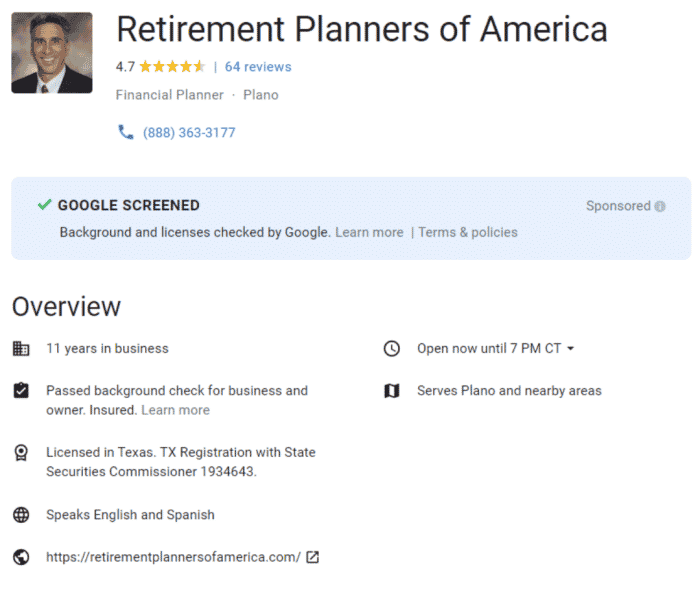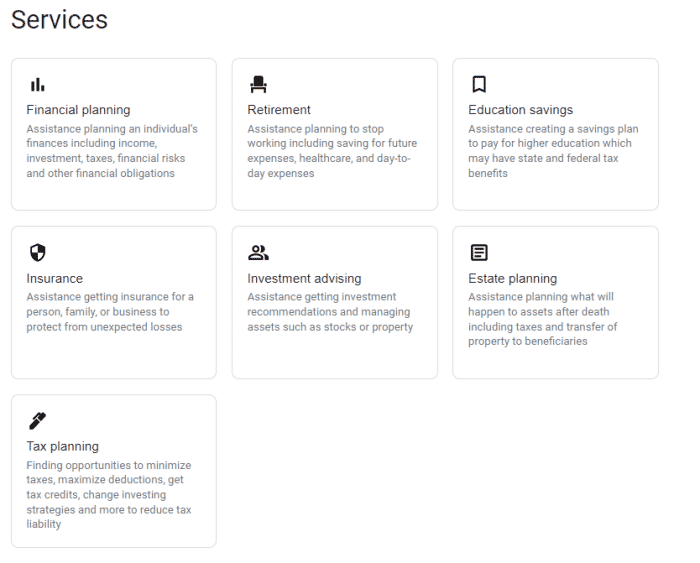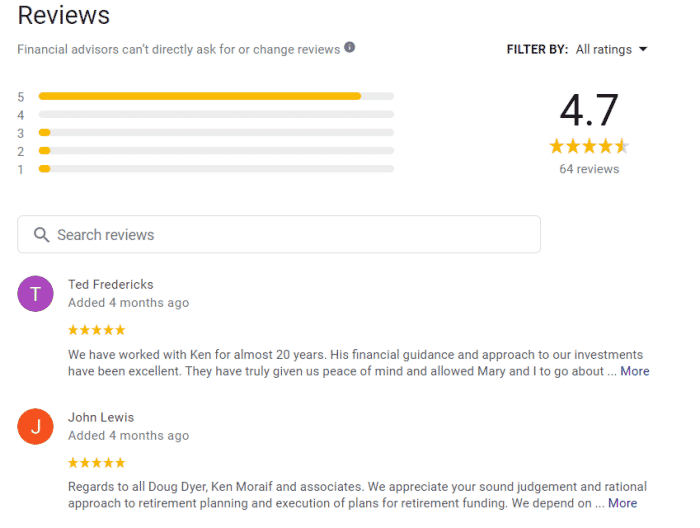 So far, it looks as though "Screened Results" appear for these searches:
financial advisor
financial advisor [city]
financial planner
financial planner [city]
financial planning
financial planning [city]
wealth management [city]
Benefits for Advisors of Becoming Google Screened
1. Appear at the Top of the Search Engine Results Pages (SERPs): A Google Screened advisor's local listing will automatically appear over other non-screened advisors in that locality, ahead of the pay-per-click ads and the local pack. This could be important as users often choose businesses at the top of the SERPs.
2. Appear in the search results for the communities you choose: Frustrated that you do not appear in the search results for the city that your metro area is part of? Google Screened allows you to pick the geographic locations that you show up for whether you have a physical office there or not.
3. Only pay for leads: With Google Screened, you only pay when a valid lead – meaning a text message, voicemail, phone call, booking request – contacts you from your ad. 
4. Helps promote client reviews: Reviews are becoming a strong signal for appearing in the local search results. With Local Service Ads like Google Screened, you get a personal review link that can be used to direct clients to your Google My Business page.
5. Enhances credibility and Social Proof: Consumers only want to work with reputable professionals and firms. A Google Screened mark boosts customers' trust and eases customer worries, as it ensures they're dealing with professionals.
How much does it cost?
Applying for Google Screened is free. Should you decide to use Google Screened, you will pay each time the ad produces a valid lead. The cost per lead varies based on the location you are targeting. The more competition for the ads, the more they will cost. 
I spoke with a representative from Google while researching this post. He said that the largest charge he could see for a financial advisor during the time period he checked was $100, and the lowest was $40. 
How to set up Google Screened
Businesses will have to take these steps to launch their application. For firms already listed on LSA and Google My Business, you can skip steps one to three and go straight to the fourth step. 
Step#1: Sign up for Google Local Services Ads if you haven't already.
Step#2: Open a Google My Business account to share a review link with your clients
Step#3: Go through the vetting process by providing the necessary license information and other required details.
A financial advisor typically goes through the following vetting processes:
Background check – including criminal history and identity checks for all business owners and qualified field staff. LSA won't conduct a separate background screening for territories that require this before license issuance.
Business check – verifying business registrations and licenses applicable to the country where the business or individual operates. Business documents at the city and provincial levels may sometimes be required.
Insurance requirements – where firms and professionals mandated to get general liability insurance must present to Google's verification partners.
Professional checks – Google performs this to ensure all staff providing services are licensed and certified by relevant regulatory bodies.   
License checks – all advisors in the firm must be duly accredited by the authorities. The verifier will contact the agency concerned to confirm their active licenses.
Learn more about the Screening and Verification Process.
Step#4: Choose your budget and bid type
Step#5: Add payment information and additional names of the staff providing professional services (as applicable).
Note: Having a Google Review is NOT a requirement for becoming Google Screened.
Not all businesses and individuals will pass the screening. If you failed in any category, you may appeal and reapply after one month. If your second attempt proved unsuccessful, wait for one year before trying for the third time.
Getting the Most Out of Your Google Screened Ads
Test: Start with a moderate budget, one that allows you to get accurate data, but won't break the bank if it is more expensive than expected. Test different service areas as well. Some will be less expensive than others.
Use Google Screened as Part of a Comprehensive Marketing Plan: Google Screened could be a great program to use while waiting on SEO to gain traction, or to rank in specific cities that you may otherwise not reach organically.
Use a quality, professional headshot.
The bottom line
Getting Google Screened can be an effective method for financial advisors to get more calls and increase conversions within specific locations. 
If you would like more information on Google Screened, or coordinating it with a long-term SEO campaign, please schedule a free consultation with me.