Your Potential Clients are Searching Online
Are they finding you . . . or your competitors?
The search engines are measuring your website's Relevancy to the search query, its Authority signals relative to your competitors, and the User Experience your it provides.
Does Search Engine Optimization Work?
According to a study by ahrefs, 90.63% of all web pages get NO traffic from Google, and 92.42% of keywords are searched 10 times per month or less (ahrefs). This is where SEO comes in. 
Organic search (the focus of SEO) accounts for 53% of all website traffic – more than social media, social media advertising, Google Ads, direct traffic, and traffic from links on other sites – all combined! In fact, SEO drives 1000+% more traffic than organic social media (Brightedge). 
Our 6-Step Advisor SEO Flywheel Framework
SEO Pricing
We typically set up the first 5-8 months of an SEO campaign to address the SEO fundamentals – those listed in our SEO Flywheel Framework. The framework is $1250 per month, although link building is recommended also.
The process can be completed faster if you want to commit to a larger monthly budget. 
Upon completion of the campaign, we can determine how much support, if any, you would like to have moving forward. SEO never ends, so our clients typically choose to stay with us for Content Support, SEO management, and Link Building.
Brent is very knowledgeable in boosting SEO and has helped us maintain a first page Google ranking in our area for many years.
Phase One includes our on-boarding process, compiling data from Google Analytics, Google Search Console, and other SEO tools, and analyzing the data and your site to determine what needs to be done. Mapping a route to ranking success.
Phase 2: Blog Audit & Content Calendar
Phase Two is designed to get the targeted SEO content creation started. In making the calendar, we consider your target audience and the services you offer. In addition, we catalog your existing content, look for content gaps between you and your competitors, and complete in-depth keyword research to determine the ideal topics for you to be focusing on.
The Content Briefs are more than just a list of topics. Each Brief includes:
Keyword research data

Article title

Article URL

Article meta description

Internal linking opportunities

Links to articles that are currently ranking for that keyword

Guidance on article length

Article Outline

And more…
In addition, throughout the time we work together, we will format your new articles, optimize them for search, find an image for them from our media library, publish your post, and share it to your social media feed.
* Does not include content creation
Phase 3: Conversion Optimization
It doesn't matter how high you rank or how many visitors your site is getting if it does not capture any leads. Phase 3 is about optimizing your site for converting visitors to leads. We will work with you to create an appointment funnel including:
Banner copywriting

Lead Magnet

Calendar Landing Page
Set up/connect Email Platform
Phase 4: On-Page Website SEO
Phase 4 focuses on your website and web pages (not blog) and is aligned to the needs of your site. It is designed to ensure that the SEO fundamentals are in place and your site is ready to soar.
website architecture

keyword research

on-page SEO for your web pages

website performance.
This too is the stage where we clean up broken backlinks and repair 404 errors.
* Does not include content creation
Phase 5: Local SEO (Google Maps)
Google (and other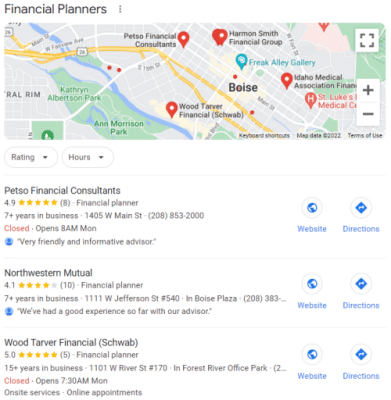 search engines) offer a ranking advantage to local businesses.
If you have an address within a city, you are eligible to appear in the Local Search Results (i.e. Google Maps and Google 3-pack) for that city. 
This phase focuses on the extra steps that are required to optimize your site for local search rankings, including:
Setting up or optimizing your Google My Business page
Setting up, or optimizing, your account with the other local search engines
Registering your business with the local aggregators
Building and/or fixing business citations
Content mark-up for local search
Phase 6: Content Optimization
Now that the SEO foundation is set and you're producing great new content, we revisit your existing body of content and implement the recommendations from the blog audit in Phase Two so that it is working as hard as you do.
Finally, we develop and implement an internal linking campaign that will make sure that all of your content works together to elevate your most important pages (keywords).
* Does not include content creation or rewrites
Reporting: SEO Dashboard
We believe in complete transparency regarding the work we are doing and the results we are getting. 
During the Roadmap development in Phase 1, we will establish baseline measurements for your SEO. 
Each month we report the work we've done, and the results we are seeing.
On-going SEO:
Successful SEO requires an on-going commitment. The majority of our clients stay on with us beyond the 6 Phases. 
We work with them on Content Support, SEO management, and backlink acquisition.
II. A la Carte SEO Services
Don't need a full-on SEO campaign but would like help in specific areas? Order from our a la carte menu…
$TBD (depends on the number of blog posts)
This process can provide a powerful SEO boost to your old, stale, or out-of-date existing content.
We do a comprehensive blog-by-blog audit determining best use for each piece of content – leave as is, update, rewrite, optimize, redirect (remove).
Although any content refreshes or rewrites are extra, we do optimize each individual blog post and develop and implement an internal linking strategy.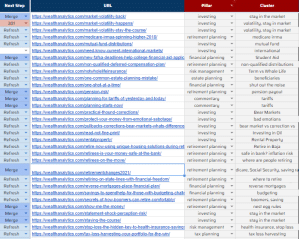 This service includes finding an appropriate image for the article, formatting the post, optimizing it for search (content mark-up, title tag, H-tags, meta description, alt. text, internal linking) publishing it, and sharing it to your social media accounts.