The SEC's long overdue update to the Advisor Marketing Rules, scheduled to be effective on May 4, 2021, will have a far-reaching impact on future advisor marketing opportunities.
The changes will allow advisors to solicit and display client testimonials, non-client endorsements, and 3rd-party review site ratings. While it may take some time to sort through all of the marketing and compliance implications of the 430-page document, there are some easy marketing wins for those advisors willing to make an effort to add client reviews to their marketing plan.
5 Marketing Benefits of Collecting Reviews and Testimonials for Advisors
1. Rank Higher in Local Search (Google Map Pack)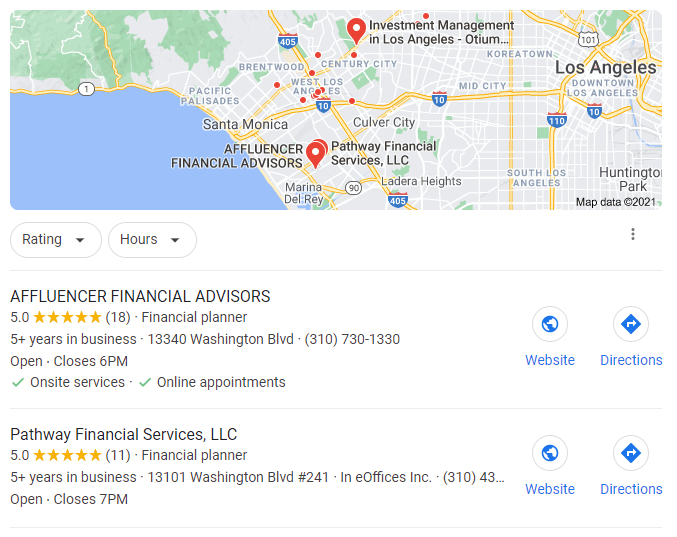 It makes sense that reviews and search rankings are closely connected. Search Engines want to help their client, the searcher, find the best answer to the search query. Reviews help to sort through the competing claims to find sources that have previously helped those with a similar search/problem.
Both the number and quality of reviews impact Local Search rankings and should be included as part of a sound search engine optimization strategy.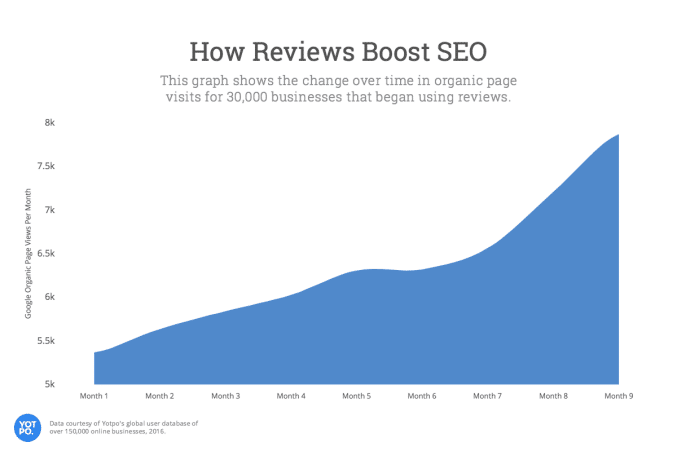 According to The 2020 Local Search Ranking Factors Survey, client reviews are believed to be the second-highest controllable ranking factor for Local SEO (behind only your claimed and optimized Google My Business page).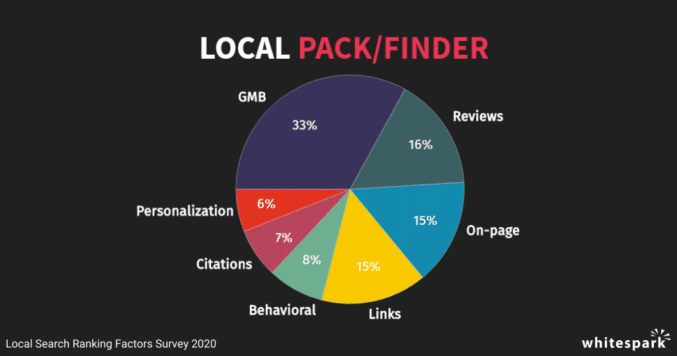 2. Social Proof
In today's digital environment, even strong referrals are going to visit your website and look into your online presence before reaching out to you. A 2019 Consumer Review Survey found that 76% of consumers trust online reviews as much as recommendations from family and friends. That figure jumps to 89% when considering only the 35-54 age bracket. And while you could argue that they won't be as influential in the financial industry, it's hard to believe that they won't hold some influence with decision-makers, especially if competitors are demonstrating a high number of positive reviews relative to the firm they are looking at.
3. Improved Click-Through-Rate (CTR)
Ranking success doesn't mean a lot if the searchers aren't clicking on your listing. Fortunately, reviews increase searcher click-through rates. In fact, a 2018 study by BrighLocal demonstrated that the Review ratings in the local Search Engine Results Pages (SERPs) were the highest individual attributor to a click at 15.44%, and together, the rating and number of reviews accounted for attracting 23.2% of all clicks.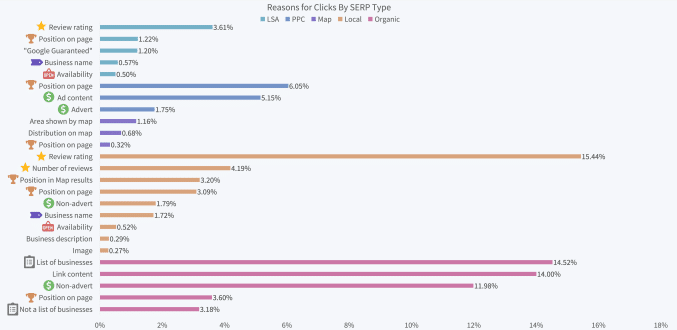 4. Add Keyword Rich Content to Your Website
Some of the reviews and testimonials you collect will undoubtedly contain keywords relevant to your services. Display those reviews on your website to add keyword-rich content to your website. Even better, add them to the specific page that is relevant to those keywords. In addition to adding keywords to your webpage – a win from an SEO perspective, it also works to satisfy Google's "freshness" requirement (that your website be updated occasionally).
Note: If you are adding reviews or testimonials to your site for SEO purposes, make sure that they are added as text rather than as an image so that Google can crawl and understand the review. We display reviews as a slideshow on our website – below is an image of that slideshow.

5. Use Feedback to Improve Your Business
Reviews and testimonials also provide valuable internal information to help improve your practice. Most advisors prioritize and pride themselves on customer service, but wouldn't it be nice to receive feedback from your client on how effective your customer care and services are? That feedback can help identify strengths, weaknesses, and possible oversights that you may not otherwise recognize, allowing you to continue to evolve and improve your processes for future clients.
The Use of Reviews and Testimonials for RIAs Registered at the State Level
Unfortunately, this rule only applies to those investment advisors registered with the SEC. If you are registered at the state level, you will need to check with your state. However, some of you may be surprised to find that your state already allows you to collect reviews as long as you follow their specific guidelines. Prior to the new rules being announced, I was told by more than one state registered advisor that their state allowed them to ask for reviews from their clients.
For more in-depth information on this new rule, check out Advertising with Testimonials and Endorsements Under the New SEC Marketing Rule on Kitces' Nerd's Eye View blog, or watch the What RIAs Need to Know About the New Marketing Rules webinar sponsored by Snappy Kraken.