Growing up in Western Canada, we would occasionally enjoy a cold pop on a hot summer day. However, since moving to Oregon in 1990 and later relocating to Idaho, that same sweet carbonated beverage is, without question, a soda.
Preferences in word usage are common within different regions of the country and over different periods of time. This holds true for what we call the professional who creates financial plans and manages our investments as well.
Changes in Broad Financial Keyword Usage Over Time
In 2004, according to Google Trends, the most popular search term for those services was "financial planning." However,  during the past 17 years, the term "financial planning" has become less common and has been replaced by both "financial advisor," and "wealth management."
The long-term trends for broad financial titles can be seen in the graph below.


The above graph gives an overview of the changes in advisor search over the years, however, it doesn't account for the regional differences that we still see today.
Regional Preferences for Advisor Keywords
Google Trends allows you to find the most popular search terms by location – state, metro areas, or city.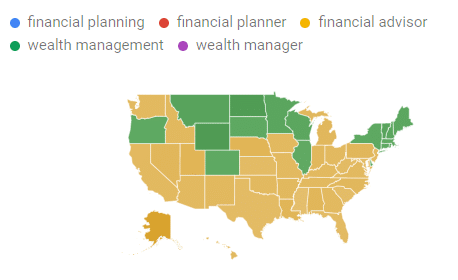 Before you rush out and change your keywords based on the above map, note that the location data is updated and changes regularly.
Despite the inconsistencies, there is still valuable data available from the map.
First, across the country, Financial Advisor and Wealth Management are consistently the two most searched terms. Secondly, if you observe the map over time, you will likely see trends for most states. And finally, Google Trends allows you to dig down past the state level to identify search terms and trends for specific metro areas and cities.
Using Google Trends for Keyword Research
1. Go to Google Trends.
2. Put in a search term (i.e. financial advisor).
3. At the top of the results page, you have the option to add/compare more keywords. You can compare up to 5 keywords at a time.
4. Use the drop-down menu just below the keywords to select the time period you wish to look at. I've selected the past 12 months.
5. To see the data "by state," select "Subregion."

6. Hover over any state to see a detailed breakdown of keyword use for that state. As you can see in the image below, Alaska heavily leans towards "financial advisor." Some states will be more evenly split and are more likely to fluctuate.
You can see the same data by hovering your mouse over the bar graphs on the right.

7. Clicking on the state will take you to the metro data for that state. For example, clicking on Oregon brings up the metro data as seen below. Again, you can hover over a region to pop up more detailed information. We can see here that even though Oregon as a whole is searching for "Wealth Management," the Medford-Klamath Falls metro area searches "financial advisor." 

To see all of the metro areas at once, select "Metro" from the dropdown menu. With this view, you can see that a couple of metro areas actually favor the search term "Financial Planning."

8. Use the dropdown menu again to see details regarding specific cities. To include cities with lower search volumes, check the box in the lower left-hand corner below the map.

If you're selling "pop" to a world full of "soda" drinkers, you may be making your job more difficult than it needs to be. Detailed keyword research plays an important role in any successful SEO plan, and Google Trends is a useful tool to add to your research process.